The pipe fitting is required to have sufficient wall thickness when rolling with the roller burnishing tool. Its wall thickness should be based on the unilateral calculation, according to different material hardness to the wall thickness requirement also has the difference. The wall thickness of the steel parts can be thinner than 2mm, while the copper aluminum needs more than 3mm. If the wall is too thin, it will cause deformation of the workpiece, the force is uneven, and even the compressive stress will break the damage.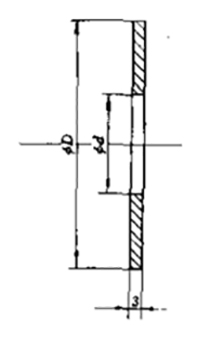 (figure 1)
Among RBT customers, some of them need to process thin stainless steel flow orifice plates (figure 1).
Because the thickness of the flow orifice plate is very thin and the machining rigidity is very poor, it is very difficult to meet the requirement of form tolerance and surface roughness by adopting conventional machining method. To this end, we adopt three kinds of double rod roller burnishing tools, which can solve the problem of insufficient rigidity.