Description
RBT-CX Special Form Rotary Broaches
Definition of RBT-CX Special Form Rotary Broaches: It works by cutting force from cutter rotation, then to broach the workpiece, forming the special hole.
Where is RBT-CX Special Form Rotary Broaches used?
RBT-CX Special Form Rotary Broaches used are lathe, CNC automatic lathe, machining center, drilling machine, etc.
What can RBT-CX Special Form Rotary Broaches do?
It can be used to process through-hole, blind-hole with regular or irregular polygon, besides the standard hexagonal square-hole, customized special shape holes are available, such as star hole, splined hole, and so on.
Videos of Rotary Broaching Tool
Catalogue & Operating Manual of Hexagonal Rotary Broaching Tool

Parameters of Hexagonal Rotay Broach Tool

Unit (mm)
Product Model
Shank Size
D1
d
L
C
Cutter Model
RBT-CXW08M2
Morse Taper #2 (2MT)
45
8
70
18
RBT-CT08A-***
RBT-CXW08M3
Morse Taper #3 (3MT)
RBT-CXW08M4
Morse Taper #4 (4MT)
RBT-CXW0812
φ12×44
RBT-CXW0816
φ16×40
RBT-CXW0820
φ20×50
RBT-CXW0825
φ25×50
RBT-CX16(A/B)M2
Morse Taper #2 (2MT)
62
16
112/152
A=40 B=80
RBT-CT16(A/B)-**
RBT-CX16(A/B)M3
Morse Taper #3 (3MT)
RBT-CX16(A/B)M4
Morse Taper #4 (4MT)
RBT-CX16(A/B)A16
φ16×40
RBT-CX16(A/B)A20
φ20×50
RBT-CX16(A/B)A25
φ25×50
RBT-CX16(A/B)A32
φ32×80
Cutter Head Size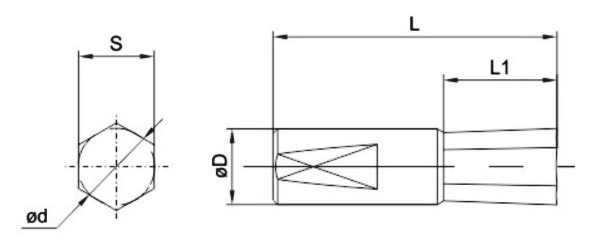 Unit (mm)
Cutter Model
S
L1
L
D
RBT-CT08-602
2
3
30
8
RBT-CT08-602.5
2.5
4
RBT-CT08-603
3
4.5
RBT-CT08-604
4
8
RBT-CT08-605
5
7
RBT-CT08-606
6
9
RBT-CT08-608
8
12
RBT-CT08-610
10
18
RBT-CT16A-610
10
15
65
16
RBT-CT16A-612
12
18
RBT-CT16A-614
14
21
RBT-CT16A-617
17
40
RBT-CT16A-619
19
40
Of the many ways to accomplish such a task, rotary broaching is undoubtedly the most popular, efficient and cost-effective. Most importantly, the hexagonal rotary broaching tool is suitable for almost any lathe.
The hexagon is an ideal form for fastener drivers. Multiple points of contact provide driving strength without sacrificing the integrity of the fastener. Using the hex broach is not difficult, but a few key points should be kept in mind. Rotary broaching does require the use of a chamfer. The chamfer helps the broach to stay on center, and is also the point where the chip begins to curl up at the face of the broach.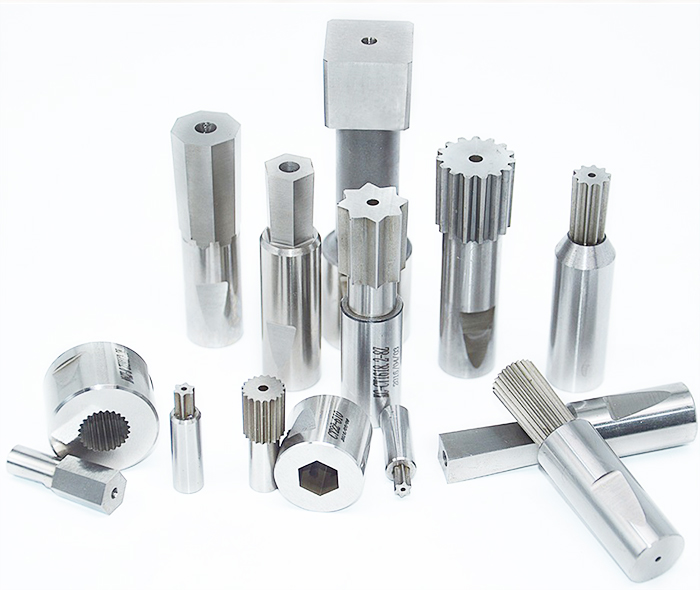 Product performance and features
1). Do not need to make punching head, pole and frock clamp, to reduce the auxiliary cost.
2). Just only one time lathe operating, reduce process and processing time.
3). RBT-CX Special Form Rotary Broaches with stable quality, high efficiency and strong universality.
4). Using RBT-CX Special Form Rotary Broaches, the inner quadrangle, or inner hexagon, or other polygonal inner holes can be easily processed according to user needs. For processing on inner hexagon with diameter of 10mm and depth of 15mm, it just takes 30 seconds.
5). It is used for processing workpiece with hardness HRC30 or less
How to use?
① Some notes in use
1). Choose the right model of Rotary Broaches, and attached it on the tail seat or spindle of the driving machine.
2). In order to ensure the machining precision, the Rotary Broaches must be aligned with the axis center of workpiece.
3). For using Rotary Broaches, there are two options: No.1, Rotary Broaches rotating; No.2, workpiece rotating on the driving machine.
4). In order to extend the service life of Rotary Broaches, please use the coolant or cutting oil during processing.
② Confirm the size of processed hole before broaching
1). Drilling diameter should be bigger than or equal to the size of the opposite edge (or the inner circle) of the blade.
2). The hole lip should be chamfered with 90 degrees, and diameter of hole lip is chamfered that should be bigger than the distance of the opposite edge of the blade, then it can guide well.
3). Drilling depth H2 should be bigger than or equal to 1.5 times of effective broaching depth (H).
③ Recommended processing parameters
1). Rotate speed: 300-2000 RPM, Rotary Broaches with special feature, so it allows to be used in high speed, but for there are some attentions (Machining Center): The speed should be slow or static during the Rotary Broaches comes into contact with the workpiece, until broaching head and workpiece speed keep consistent, then increase the speed.
2). Feed rate: 0.02-0.1mm/r, for copper or aluminum workpiece, the feed rate 'f' can be increased to 2-3 times.
3). Broaching depth: Smaller than or equal to 1.5 time of the distance of the opposite edge of the blade.
Custom Form Rotary Broaching Heads
Rotary Broaching has been one method used to obtain these various shapes. Common forms include hex broach, square, rectangle, torx, serrations, spline, involute spline, missint teeth, double d, double hexagon, double square, keyways, rectangle and triangle. Broach Sharpening,  an external or internal broach tool can usually be sharpened one or two times if the tools are in reasonable condition.  Only the front face will be re-sharpened with a cutting angle from 4 to 8°. The entire operation can be completed in a few seconds and can be generated to 0.0005 accuracy or better. Used for years on automatic lathes, Rotary Broaching has become the method of choice on Swiss Type machines, Mill, CNC lathes and Machining Centers because it eliminates a secondary operation.
RBT is happy to provide various specifications of Rotary Broaches. We offer fast customization and special order service to our customers.